Well, after Nepal, I spent Christmas at my mom's house and then moved up to Alaska . . . sorry for an admitted lack of action shots, but to those of you who know me, this should come as no surprise!
I skied one day at
Alyeska
before deciding that my new knee wasn't cut out for the resort, and headed out to investigate Turnagain Pass. Day one was on Sunburst Mountain . . . visibility was so poor it put Baker to shame, the winds were howling, snow "tornadoes" kept coming down the ridge, & my legs were like jell-o on the uphill and questionable on the downihll.
I couldn't help but think, "I am not cut out for Alaska - what have I done?!?" [URL="http://www.scottfennell.com/Skiing%20Adventure%20Movies/30dec05/30dec05.wmv"]Check out the video if you want[/URL] . . . I do have to admit that a few good turns were had, and in some sick way, I find it fun to ski when you can't see anything (a version of making non-technical terrain quite technical, I suppose). Thankfully we were blessed with good stability and able to ski safely, despite the lack of vis and wind.
The following day was back out to Turnagain and a popular mountain called Tincan . . . trees down low and a pretty cool bowl up top. Again, zero vis, wet maritime conditions. Gotta love Alaska!
Turnagain from the car . . . zero vis, 34 degrees at the road . . . reminded me of Mt. Baker at the very least!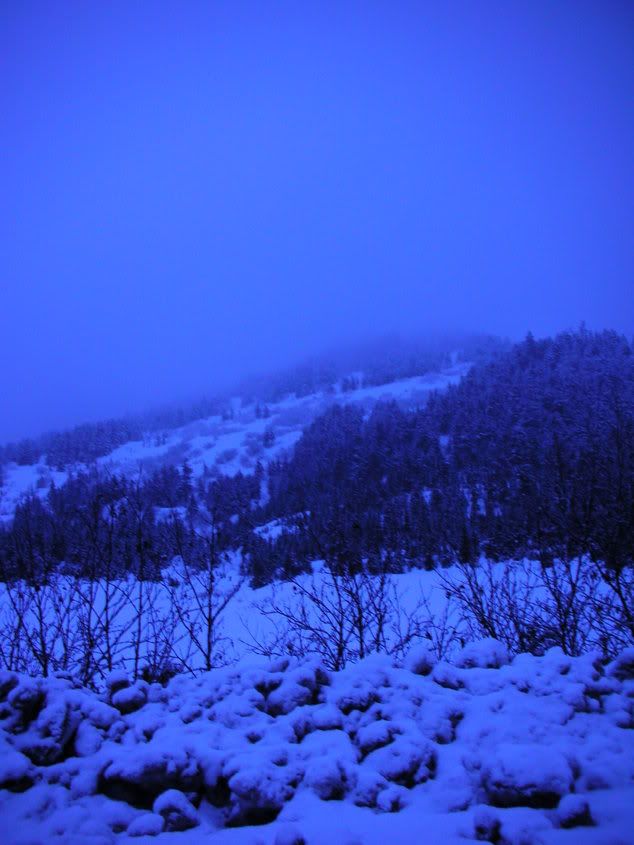 It was cool to check out another area though, and felt damn good to be out hiking and skiing after about 8 months off of snow :cool:
Not having found too much excitement on Turnagain, the decision was to head north in search of the Snowbird Hut off of Hatcher Pass. A 6 mile, 3000ft skin down a road and up over a pass would take us to the Snowbird Glacier where a privately owned hut is unlocked and available for a mere $7/night!
Skinning down the road in winter light . . . this is about noon!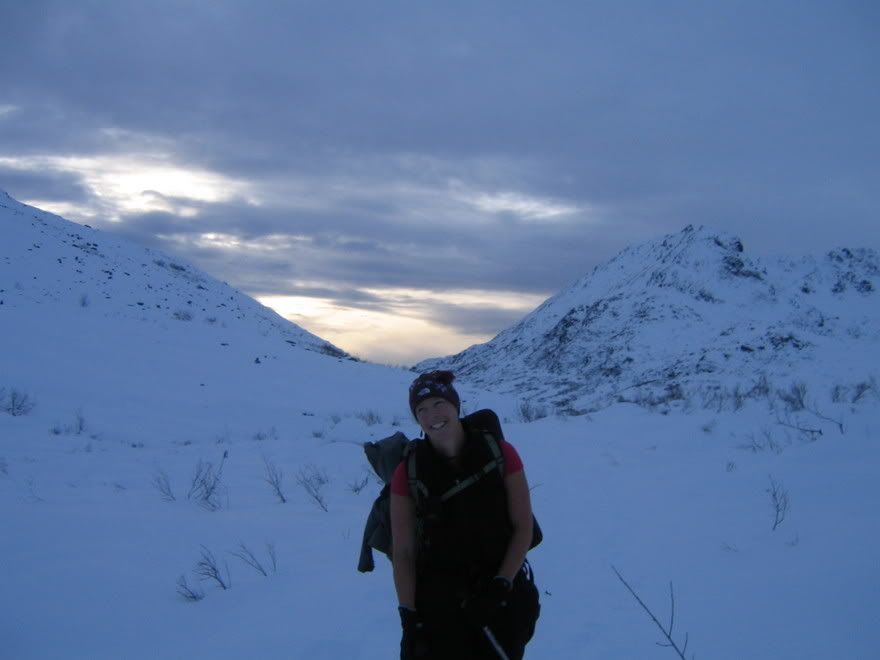 Not a bad view from the flats :smile: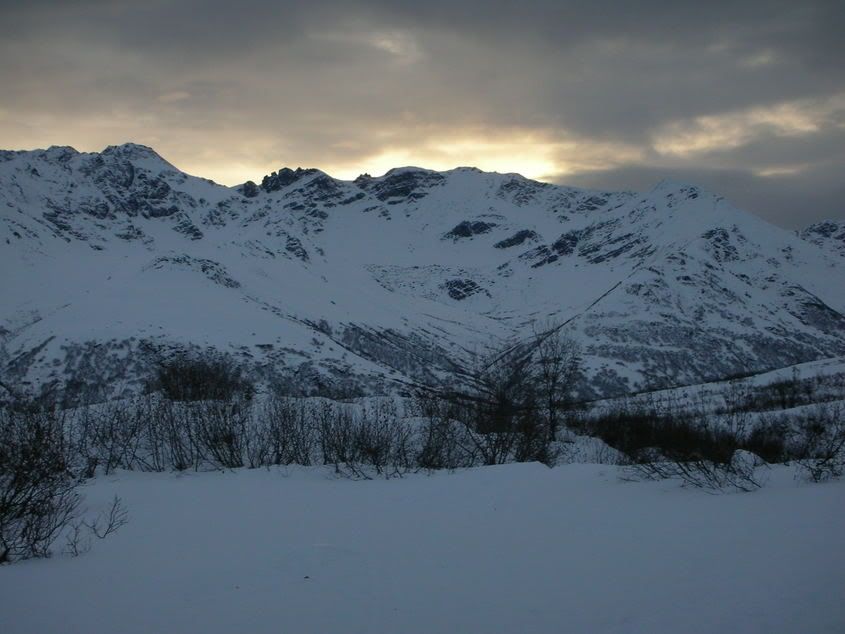 Skinning up past an old abandoned gold mine - there was a cabin nearby that was our backup plan for not making the Snowbird Hut.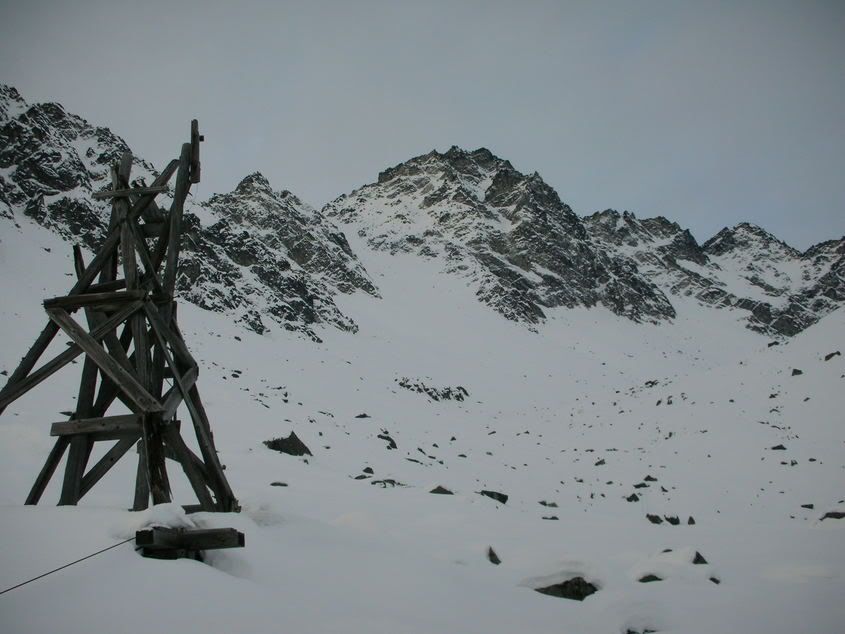 We arrived to the glacier at about 4pm and made a few New Years turns (it's my personal tradition to make turns on Jan 1!) in search of our home for the night. Without good beta on the exact location, however, we looked for about an hour, almost giving up, before finally finding it as the last hint of light disappeared from the sky. I was much relieved, to say the least, as toughness training had not been in my day's plans, but we were prepared at least :smile: . As it turned out, the hut was super luxurious, well-stocked, and made for quite a pleasant home, with amazing morning views . . .
As it turns out, winter light (or lack thereof) can be pretty cool . . . about 10:30am - dawn patrol takes on a whole new (read: lazy) meaning here!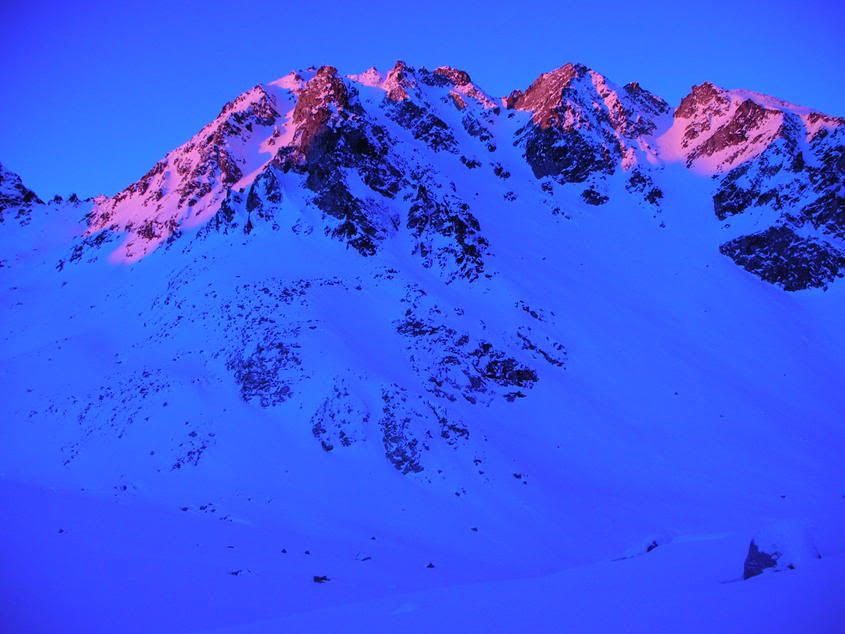 Off to make some turns, with the hut behind us
We hiked up to a nearby pass (666, I think I see your line :wink: )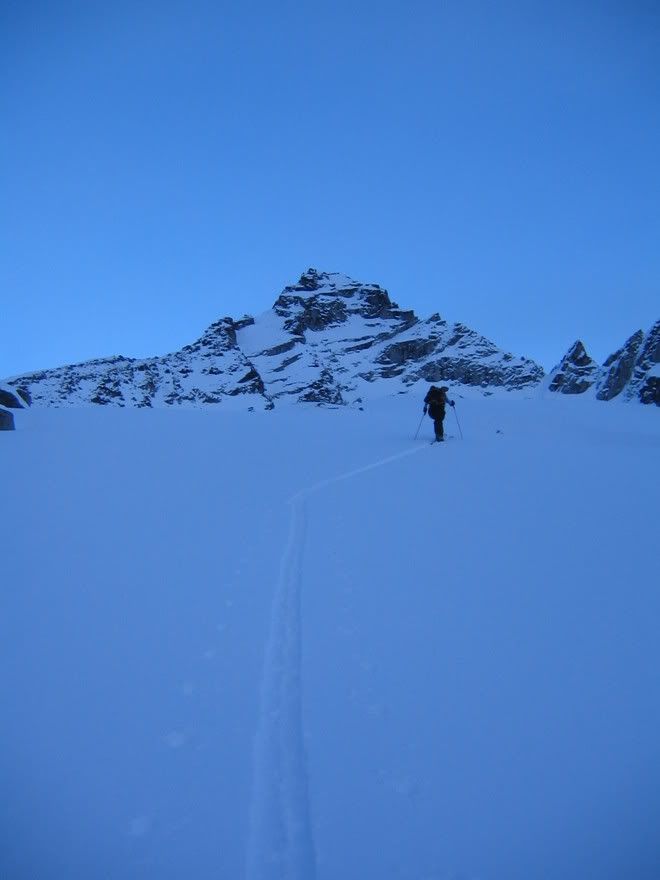 . . . and were greeted with a truly incredible view: mountains upon mountains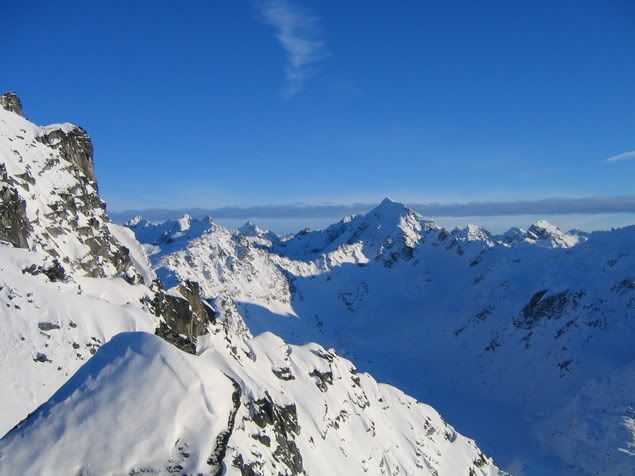 Some of the Talkeetnas with the Alaska Range and Denali in the background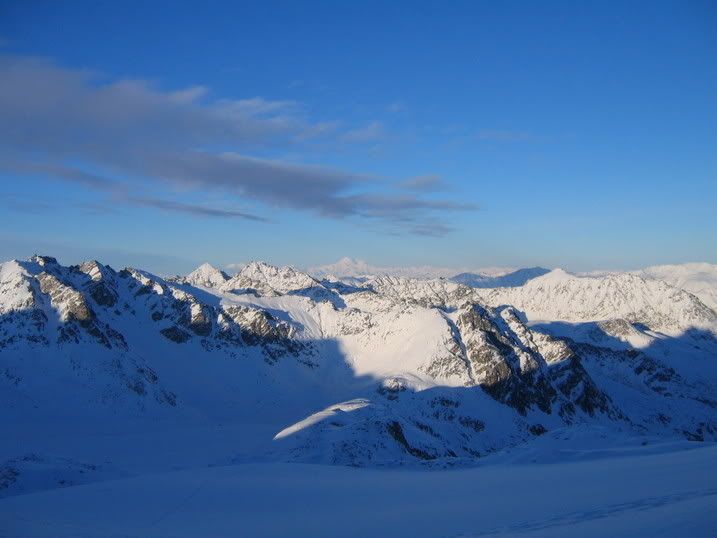 Unfortunately, we didn't have too much time to ski before having to head back before darkness set back in . . .
Looking west, and loving the sunset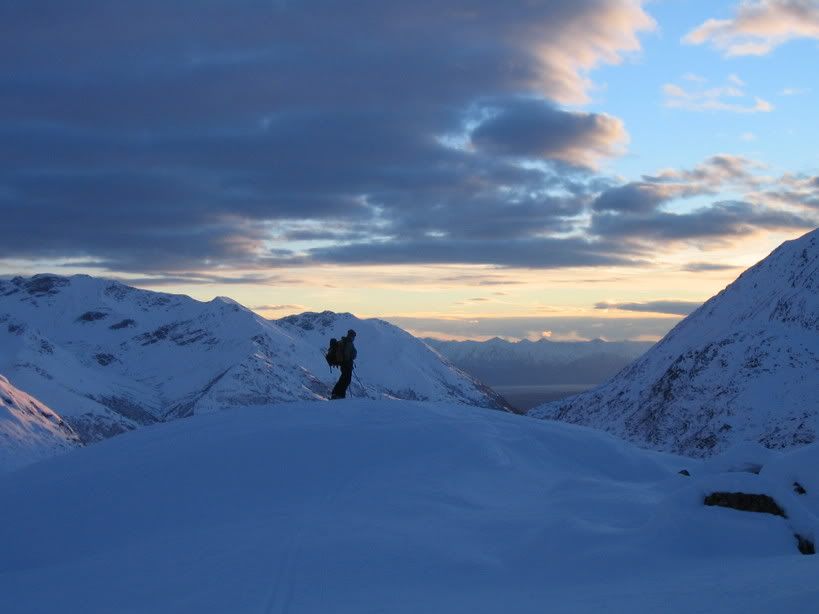 Overall, it was a great way to spend a few days, and erased much of my earlier doubt . . . it's amazing how a little sunshine, some moutnain views, alpine solitude, and good snow can put your heart and mind at peace.
One of Alaska's newest residents . . . and DEFINITELY glad to be here :)